OSTERIA IL COCCIA: A Taste of Italy by the Sea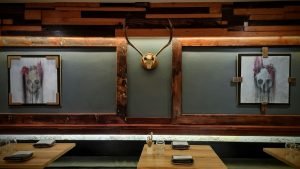 Over the past few years, Ettalong Beach — a quiet village on the shores of Brisbane Water where it meets Broken Bay — has become quite an exciting place for new food venues. Far from the bustle of Terrigal and with ample parking, there's plenty to love here, including wood-fired pizza, Indian, Thai, as well as modern-Australian, modern-Turkish and modern-Italian with a more casual-meets-fine dining aesthetic.
Osteria Il Coccia fits firmly into this last category: Italian food with a modern Australian twist, prepared by Chef Nicola Coccia using the freshest ingredients and with an emphasis on wood-fire cooking.
Chef Nicola grew up in Naples and trained in Italy before his travels landed him in Australia. After stints at at some of Sydney's best restaurants including Quay, Ormeggio, QT, Otto and then Biota in Bowral, he and his wife Alexandra started their own Southern Highlands restaurant, Bistro Officina. After earning 1 hat and gaining quite a reputation amongst the locals, Nico and Alexandra found themselves visiting Ettalong and yearned suddenly for a sea change.
And thus, in 2019, Osteria il Coccia was born… and I'm very glad it was!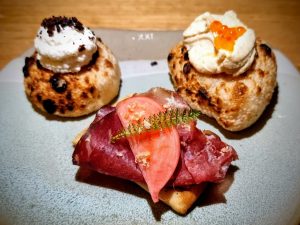 The atmosphere in the restaurant is warm, inviting and casual. There is no pretence here. Walls of sandstone brick, warm wood and misty green panelling. Deer antlers hanging on the walls. The smell of woodsmoke from the kitchen. It all gives the impression of stepping off the Aussie beachside street and into a cosy Italian Hunting Lodge. It's an ambience that really sets you up for the food and wine to come. And, I think, that is exactly the feel Nico and Alexandra are hoping for.
Osteria is currently offering a Six Course Tasting Menu for $115.00 (or $180.00 with matching wines). If you visit, I strongly suggest you do the matching wines, because Alexandra Coccia has bypassed the usual selection of local Australian wines for something a little more adventurous. Distinctive wines from Nico's Italy and her original home of France, bright and fresh and very unlike the wine's we're more familiar with, that pair perfectly with the dishes.
After some delightfully crusty inhouse baked sourdough with smoked butter, we were served an apertivo of Organic Italian Prosecco alongside bitesize pieces of a fluffy wood-oven pizzetta with taramasalata and salmon roe, and wagyu bresaola with pickled radish on a crunchy crostolo.
The Balmain Bug was a perfectly cooked piece of seafood balanced nicely with creamy smoked burrata, eggplant puree, and the sweet acidity of sundried tomatoes. The wine paring, a 2020 Farina Pinot Grigio from Veneto Italy, had a bright floral aroma with ripe apple, light citrus and a rich flinty minerality on the palate.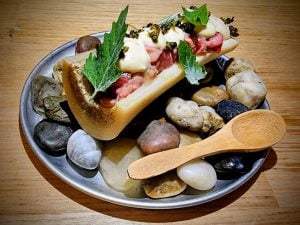 Vitello Tonnato is traditionally made with boiled, thinly sliced veal served cold, and it is always a wonderful dish. Chef Nico's variation is even better. More like a tartare, Osteria il Coccia's dish is made using finely diced raw veal topped with a tuna emulsion and capers. It's so fresh and light, and the veal is extremely tender. The 2020 Talmard Mallory & Benjamin Mâcon Chardonnay had deliciously creamy mouthfeel and just enough citrus acidity to really bring the dish to life.
The Artisan Ravioli, mushrooms, onion, peas, pancetta broth was probably my wife's favourite dish of the night… and she's usually not a huge fan of mushrooms. I can see why though. The pasta itself is exquisite; not too thin, not too thick and perfectly al dente with just the right amount of filling. The caramelised onion puree and pancetta broth are full of flavour and the green peas add a pop of freshness to a very warming and satisfying course. The 2019 Adalia Laute Valpolicella was an amazing light ruby colour in the glass, with much more body than the colour would imply. Cherries and strawberries and a hint of spice. Crisp and clean on the palate with a delicate salinity.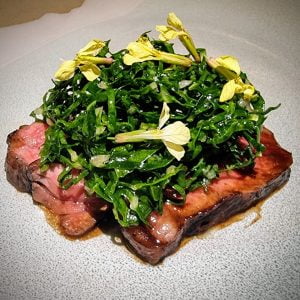 The Ranger Valley Sirloin is served on a bed of fermented garlic, topped with silverbeet, and a rich bone emulsion. The sirloin is perfectly cooked, only just touching medium-rare, and I have no idea what Chef Nico does with the silverbeet, but it is wonderfully fresh and a perfect accompaniment to the iron-richness of the beef. The wine pairing, a2019 Poggio al Tesoro Mediterra Toscana IGT from Tuscany, is a blend of 40% Syrah, 30% Merlot, and 30% Cabernet Sauvignon. Intensely fruity with bucket loads of blackberries, plums and cherries, and just a hint of pepper to give some spice, it's a great wine and very easy to drink, but I feel the dish could stand up to a more robust wine with ease.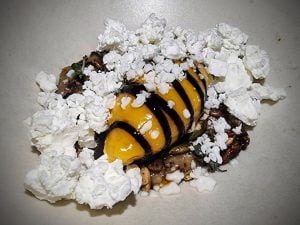 Dessert… Pumpkin Sorbetto, oat soup, frozen buffalo yoghurt, balsamic. What was that? Pumpkin Sorbetto? Whoever heard of such a thing? How could that possibly work? Well, let me tell you, it does! Arriving like a little-bee in a cloud of nitrogen-frozen yoghurt, this course was a wonderful surprise. The sweet quenelle of bright orange sorbetto is striped with balsamic reduction and rests of a bed of toasted oat 'soup' that tastes a little like popcorn, lending the pumpkin a very earthy ground on which to rest. The frozen yoghurt is super cold, so mind your teeth and watch out for a brain-freeze, but it is very light on the tongue as it melts. The combination of flavours is simply delicious! The paired Domaine de La Pigeade Muscat de Beaumes de Venise is a marvellous dessert wine, floral and aromatic with just the right amount of sweetness so that it's not cloying after the first sip.
So, that's the food. Absolutely wonderful in every way. Fresh ingredients, cooked to perfection and with great depth of flavour that represents not only Chef Nicola's Italian heritage, but his love of cooking with fire. The portion sizes are wonderful too, each dish offering just enough to leave you satisfied and excitedly expectant for the next course.
But, it's not just the food. The service too, is both exceptionally professional and very friendly. Alexandra and Luca looked after us so well and the knowledge of the food and wine they're serving is extensive.
Overall, Osteria il Coccia is highly recommended. We're extremely luck to have a restaurant of this calibre on the Central Coast, and with a menu that changes often depending on seasonality and ingredients, it's somewhere I can see us visiting on a regular basis.
Osteria il Coccia is located at 40/189 Ocean View Road, Ettalong Beach, NSW. It is open for Dinner Thursday to Saturday and Lunch on Sundays. For bookings phone: 02 4327 8952 or check out the website at https://www.osteriailcoccia.com.au.