SAFRAN: A Turkish Jewel on the Central Coast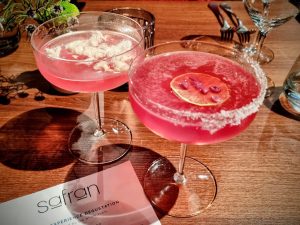 It is a Friday night in Ettalong, not long after COVID lockdown restrictions have eased, and Safran Restaurant is bustling with activity. To be honest, it's very easy to see why.
First opened by Chef Suleyman "Sulo" Kirbancioglua and his wife Natalie in 2013, and earning its first AGFG Chef's Hat in 2020, Safran has become a bit of an institution for Central Coast locals. Specialising in Contemporary Turkish cuisine, Safran will be quite a revelation for those only familiar with late-night kebabs, food truck gözleme, and chips dipped in humus. Here, Chef Sulo shows us the true wonders of what Turkish food can offer.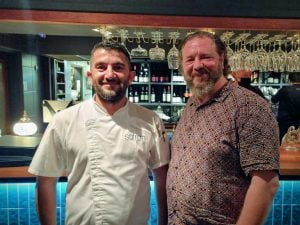 Chef Sulo grew up in Mengen, in the Bolu Province of Turkey beside the Black Sea, and studied his craft at the renowned Mengen Cooking School. Mengen is famous worldwide for its cooks and its annual cookery festival. With such an esteemed background, and after years of experience working in some of the finest establishments in Istanbul, it's very lucky for us that Chef Suleyman decided to move to Australia!
The food is Chef's own modern take on Turkish cuisine, using traditional recipes and techniques but presented with a more contemporary interpretation. It's a combination that is both very tasty and exciting.
We started our night with a couple of cocktails, and even these are a Turkish twist on old classics: a Pomegranate Margarita, and a Turkish Delight Martini, which is especially nice with its use of Turkish Fairy Floss.
For our meal, we chose the 5 course "Safran Experience Degustation" with paired wines, although 2 & 3 Course à la carte options are available if you'd prefer to pick and choose from the menu.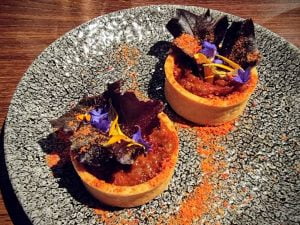 First up, we we are presented with a gorgeous amuse-bouche of Çiğ Köfte (like beef tartare but with a smoother paste-like consistency and hints of tomato and spice) served in a delicate crust with a scattering edible flowers and dehydrated tomato powder. Just the right size to prepare our taste buds for the dishes to come.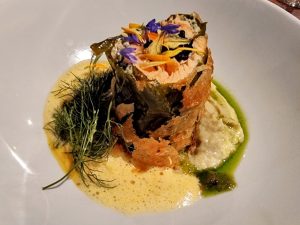 My first course is a Salmon & lobster tail vine leaf dolma, with fennel puree, and saffron veloute. The vine leaf is unexpectedly wrapped in a super-thin crispy batter, and the salmon & lobster tale filling is light and packed with flavour.
My wife, not being a fan of seafood, is serve the Confit beetroot with pickled grapes, whipped goats cheese, and simit croutons. I was lucky enough to steal a little from her plate when she wasn't watching, and it was definitely worth the risk of being discovered. The beetroot was beautifully tender, the goats cheese so creamy and rich, and the pickled grapes offered little pops of delight.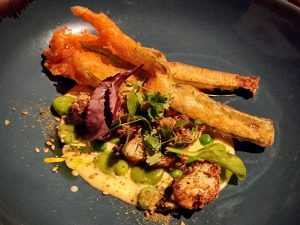 Next up, Deep fried zucchini flower, tulum cheese custard, fava beans, peas, and zaátar cauliflower. All the vegetables perfectly 'in season' and full of flavour, this is a dish my wife described as 'her garden on a plate'. I think it was almost certainly her favourite on the night and it was easy to why. Very light, very fresh.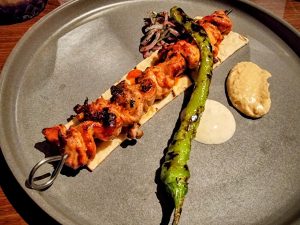 The Antep capsicum marinated chicken shish was terrifically tender. Paired with a spicy grilled sivri biber green pepper, tomato sauce, flatbread and sumac onion parsley salad it hit just the right combination of sweet and spicy for me. For others, the sivri biber might be a bit too hot, but that's okay because it is served on its own on the plate, and you can have as little or as much as you like to balance out the other flavours without setting your mouth alight.
Speaking of tender though… the Beef Rib (glazed in mulberry molasses and with potato mousse and confit beetroot) was so soft and perfectly cooked, a knife was definitely not required! A fork was more than enough to slice through the perfectly cooked meat. So rich and sticky-sweet. I'm always a sucker for slow-cooked beef, so that made this dish my pick of the night.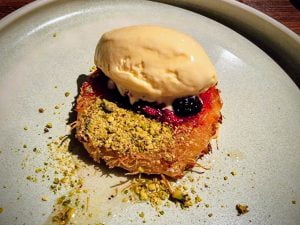 The dessert was something I'd never tried before, but was very happy I did. If you like Turkish desserts such as Baklava or Kadayif, this Kunefe of sweet baked cheese wrapped in crisp noodle-like pastry, is going to knock your socks off. Served with fresh berry salad, & house vanilla ice cream, it was a delicious and palate cleansing end to the evening.
The wines were an eclectic mix of French, Turkish and New Zealand varietals, but each matched perfectly to compliment with their dishes. I'm not sure who chooses the wine pairing at Safran, but they definitely know what they're doing. It was especially great to have the chance to try those Turkish wines (an Emir — a white grape native to the Cappadocia region — and a Syrah from Eastern Thrace near the Aegean Sea) which we rarely get to experience in Australia.
If there can be any quibble at all, and it is a minor one, it is that Safran was so busy and the service staff so rushed off their feet with making sure everyone was looked after, that we occasionally missed out on a proper introduction to the food on the plate and the wine we were being served. This is a very small thing, and not all customers would even be interested in this level of detail, but we enjoy learning about where the wines come from and all the little elements on the plate. Yeah, we're those people. Having said that, as the night quietened down, it became obvious that the staff were indeed knowledgeable and were able to spend more time answering our questions.
And honestly, can you really complain about a restaurant being busy and in demand? That is just a sign of excellent food and a great atmosphere, and Safran is certainly these things.
A culinary jewel for the Central Coast, at Safran Chef Sulo and Natalie Kirbancioglua have created a social space for the community where good conversation can be had while enjoying exceptionally prepared and presented Contemporary Turkish Cuisine. Get down there and visit if you can, because I know you won't be disappointed. Might even see you there, because I know we'll be heading back soon.
Safran is located at 81/189 Ocean View Rd, Ettalong Beach, NSW. It is open for Dinner Wednesday to Saturday and Lunch on Friday and Saturday. For bookings phone: 02 4342 7030 or check out the website at www.safranrestaurant.com.au.