Carillion Wines – Sounding the Bell for Mount View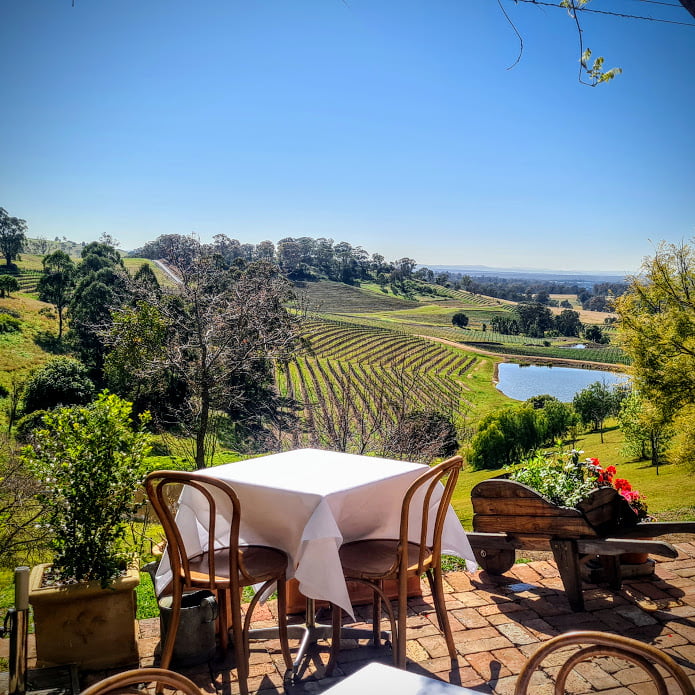 Ask most people about the New South Wales Hunter Valley, and they'll think of the central tourist district of Pokolbin. But travel just 15 minutes south via Oakey Creek Rd, and you'll find Mount View.
The short trip is well worth it, because Mount View is one of the most gorgeous parts of the Hunter Valley Region. It has breathtaking views and some really distinctive wineries producing exceptional wines.
Carillion Wines, at the Tallavera Grove Vineyard on Mount View Road, is one such place. The Cellar Door and attached Bistro Molines just ooze French Provincial charm and the view across the vineyards is breathtaking. But…you really should visit for more than just the vista, because the wines are something special too.
As well as expressions of classic varietals well known to both the Hunter Valley and Orange regions – such as Verdelho, Semillion, Chardonnay, Riesling, and Shiraz – Carillion also produce a series of Single Vineyard wines. Sourced from the best blocks of their three vineyards in the Hunter Valley, Orange and Wrattonbully in South Australia, these Single Vineyard wines display the best each region has to offer.
Initially though, with us always on the look out for something a little bit different, it was their "Lovable Rogue" series of Italian Varietals that really sparked our interest. Described by Carillion boss and Head Vigneron Tim Davis as a "cheeky side project", the range consists of a skin-contact Vermentino, a lees-stirred Fiano, a wild-yeast fermented Verduzzo. There's also an Anglianico Pet-Nat, a foot-stopped Sagrantino, and an inky Anglianico full with the taste of red and black berries.
Winemaker Andrew Ling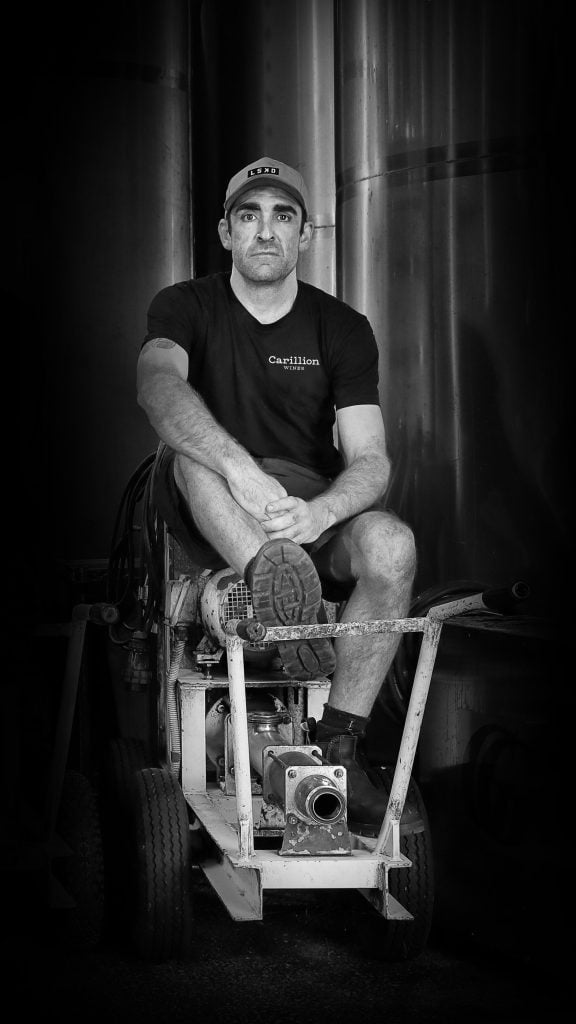 We were lucky enough to spend a gorgeous Spring morning at Carillion Wines with Head Winemaker, Andrew Ling. He talked us through these delicious wines and offered us some wonderful insights into his own history as a winemaker.
Andrew began his wine industry career in Mudgee at the age of 19. Initially, he was thinking of travelling, but his soccer coach had other ideas. In the hope of keeping Andrew in Mudgee playing soccer, his manager helped him secure a job as a Lab Assistant at Simon Gilbert Wine Services.
"I was very lucky to work closely with Simon Gilbert himself," Andrew said. "I learnt a lot from Simon. It was there that I really developed a passion for the industry."
In 2005 he started working as Assistant Winemaker/Export Manager for Logan Wines. He stayed there for the next 8 years, predominantly making boutique wines from Orange, NSW. This is where his affinity for cool climate wine production was forged. From there, it was 3 years as Vintage Winemaker/Cellar Manager for Robert Oatley Vineyards – crushing over 1,000 tonnes and bringing in over a million litres of juice from all parts of Australia – before moving on to the Hunter Valley. There he took on a 2IC Winemaker role with Pepper Tree Wines (another vineyard/winery, like Carillion and Briar Ridge, in the Davis Family portfolio).
A move to Carillion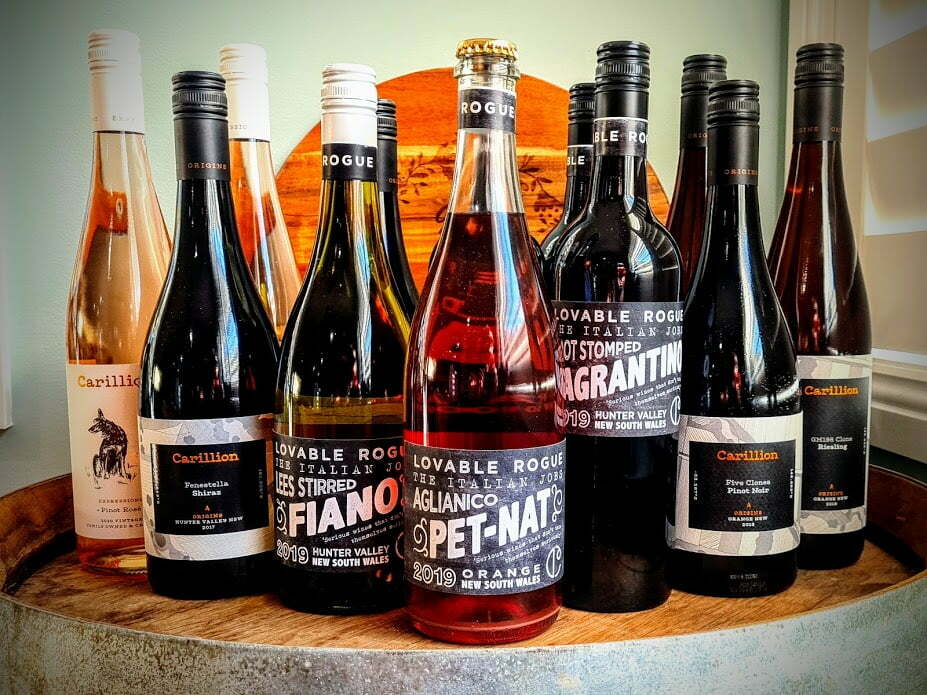 In 2017 Andrew was put in charge of winemaking at Carillion. He now spends all his time there, putting his own unique fingerprint on their wines.
For Andrew, good wine is all about the fruit, and it is the vineyards that excite him first and foremost.
"We have some really exciting established varietals across our Hunter Valley, Orange and Wrattonbully sites. They're starting to produce some amazing wines, and the work Tim and guys are doing at these sites makes my job a lot easier," he told us. "We have a small and cohesive team here at Carillion. Everyone gets their opinion heard and I really like that."
Those Italian varietals such as Sagrantino, Aglianico, Vermentino and Fiano that excited us most? Andrew sees a big future for them in the Australian wine industry.
"As the climate gets warmer, we are able to ripen these varieties to their full potential," Andrew told us. "They're extremely approachable at such a young age too, with tannin structures that are especially favourable to food matching."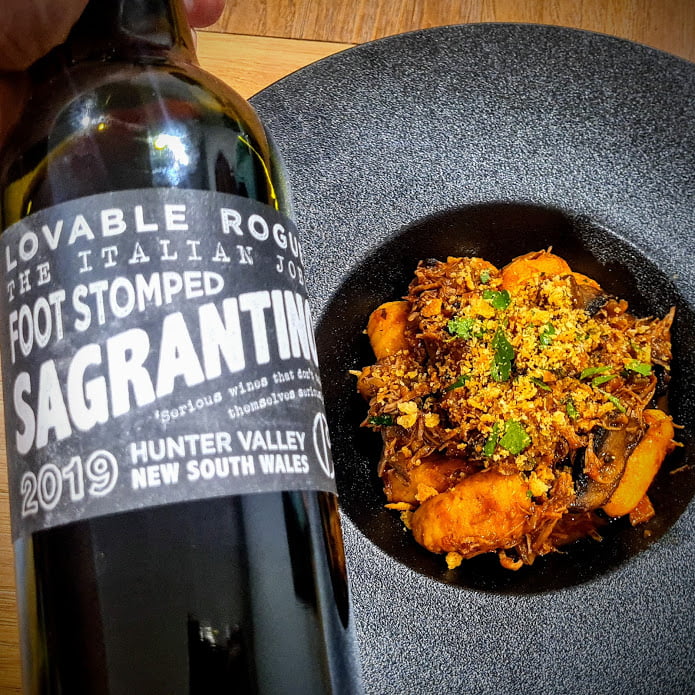 That's something I can certainly attest to at The Grape & Grain. These Italian Varietals are pairing perfectly with some of the food I'm cooking up. Their 2019 Lovable Rogue 'Foot Stomped' Sagrantino went so well with my Gnocchi di Zucca con Ragù di Agnello e Funghi that I've given up the recipe [HERE], on the proviso that you pair it with a bottle!
The Future for Andrew & Carillion
As for what the future holds for Andrew Ling and the team at Carillion…
"I'm very passionate about the company and really enjoy working with Tim and the team. Our current release of wines are probably some of best we have made. Also very excited to welcome a couple of new Italians to our Rogue range in 2021. Mostly though, I'm looking forward to 2021, getting back to some normality, and seeing the back of 2020!"
Aren't we all! Bring on Vintage 2021 and may it be better for us all.
Until then, we highly recommend you check out the offerings from Andrew and the team at Carillion Wines. There are some truly exceptional expressions of all the Hunter Valley and Orange favourites, but I think their Lovable Rogue range will really blow you away.
Carillion Wines @ Tallavera Grove Vineyard
Mount View, NSW 2325
https://www.carillionwines.com.au/
E: cellardoor@carillionwines.com.au
T: (02) 4990 7535