LITTLE MISS MEZZA: Elevated Modern Shared Dining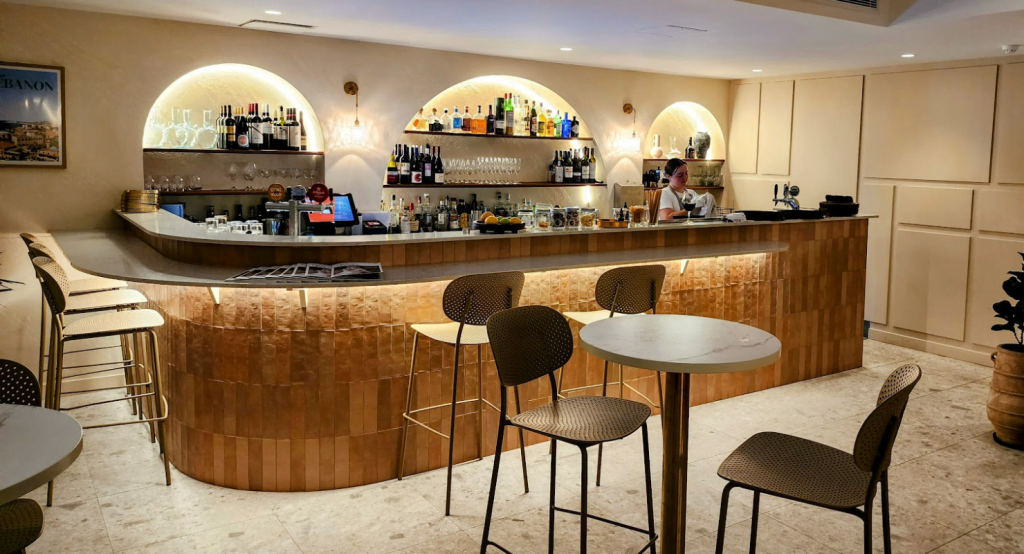 Little Miss Mezza is West Gosford's recently opened sister to Motel Mezza at Wyong, but there is nothing little about this venue or its food. The blend of traditional Lebanese flavours with Modern Australian techniques, coupled with a great wine and cocktail list, make a fresh and welcome addition to the Central Coast food-scene.
Debuting at the beginning of February 2023 in the newly refurbished West Gosford Village shopping centre, Little Miss Mezza is the mastermind of Meraki Group Director Tara Senam, her business partner Nick Waldon-Howe, and Executive Chef Joshua Grant.
It's worth noting that the word 'Meraki' is a Greek word that roughly means "something done with great care, love and passion". It is a meaning that explains a lot about how the Meraki Group venues are operated, and this especially shines through at Little Miss Mezza.
The first thing you notice as you step through the door is how bright and modern everything looks. Too many restaurants try to hide behind the cosiness of dim lighting and dark fit-outs. Little Miss is none of this. Bright, open, and airy with subtly gorgeous décor, Little Miss has nothing to hide and isn't afraid to show it. The bar too is wonderfully warm with graceful curves, and I instantly wanted to steal it for myself.
It is a Saturday night when we visit, four months since the opening. The room is crowded with people and everyone appears to be having a very good time. As is usual with most good shared dining venues (think mezza, antipaso and tapas), Little Miss is noisy with talk and laughter. This is a good thing. A sign that people are relaxed, enjoying the food and each others company. It's what Mezza is all about; a night not just of shared food, but of shared experiences with family and friend.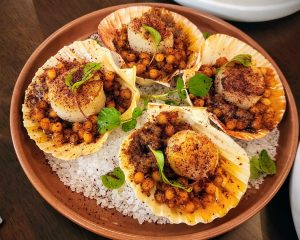 The menu is split into small and large share plates, as well as sides, and the restaurant recommends approximately five dishes for every two people, chosen from across the different areas. There's also a set Banquet Menu with optional wine pairings. We started with a few cocktails while we looked through the menu and eventually settled upon 3 Small Plates, 3 Large Plates and a Side amongst the four of us. We tried to keep a good mix of seafood, chicken, lamb, goat, beef and vegetarian dishes to achieve as wide a sample as possible. Turned out this was more than adequate, and totally delicious.
First up, the Small Plates…
The Grilled Japanese Scallops were served in shell (four to the plate), with Israeli couscous, sumac, and Aleppo compound butter. The scallops were perfectly cooked all the way through with a golden sear on the outside, and light and yielding on the inside. The Israeli couscous was cooked to a satisfying firmness to counter the softness of the scallops, and the aleppo pepper and sumac dressing offering up just the right amount of heat and lemony spice to tie everything together.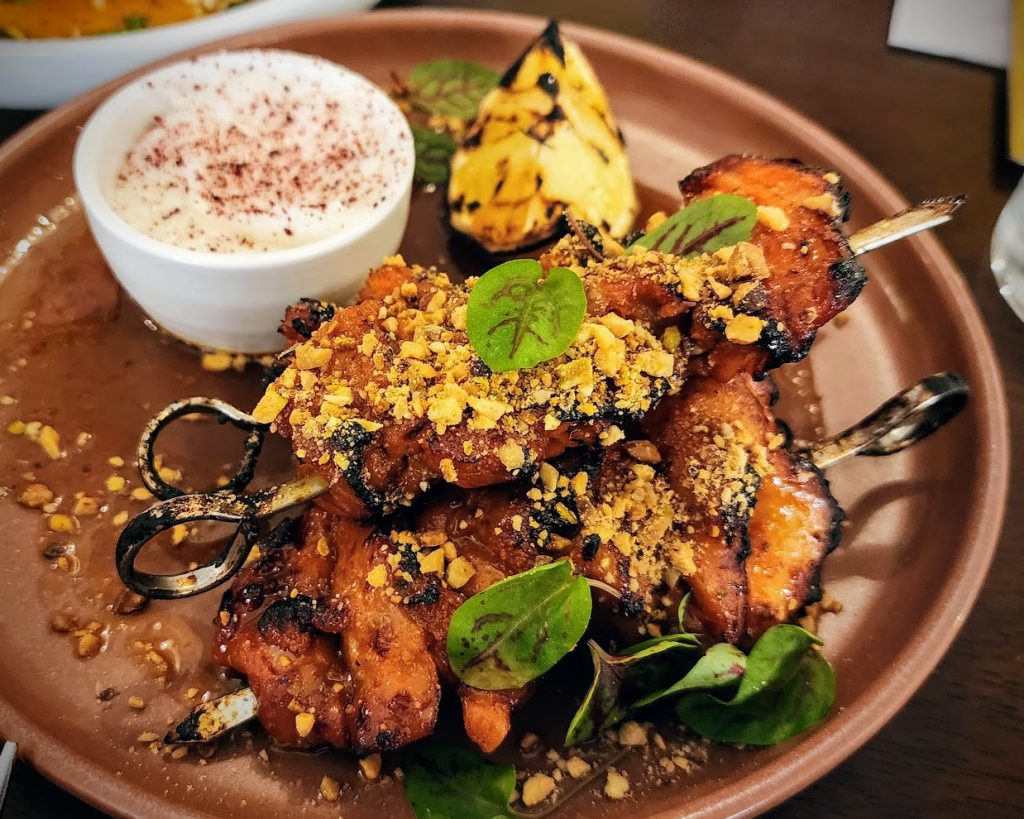 The Roasted Red Pepper, stuffed with spiced lamb mince, bulgur wheat pilaf, smoky red harissa, za'atar pesto, and salted cashews… it was good, but we all felt it could have been better. The za'atar pesto and the smoky red harissa sauce were great, but the capsicum was very firm and could have done with a touch more roasting to soften it up. The lamb and bulgur wheat filling was a little under-seasoned. These are minor things though, and either a symptom of how busy it was on the night or issues that can easily be fixed.
The Baklawa Chicken Bites, on the other hand, were a triumph! Tender marinated chicken pieces, roasted on skewers to a beautiful outside char. Topped with a mix of crushed nuts and lightly spiced honey dressing, these chicken bites were almost perfect on their own. But add of squeeze of the supplied grilled lemon, and some delightfully fluffy Toum garlic sauce, and we were all in food heaven. A delicious blend of sweet and savoury that just blew our minds. Our only problem was they're served three skewers to a plate when there were four of us. Little Miss almost had a fight to deal with at our table until my wife wisely suggested we take them off the skewers and divvy them up that way. Problem solved! She's a smart woman.
For the Large Plates…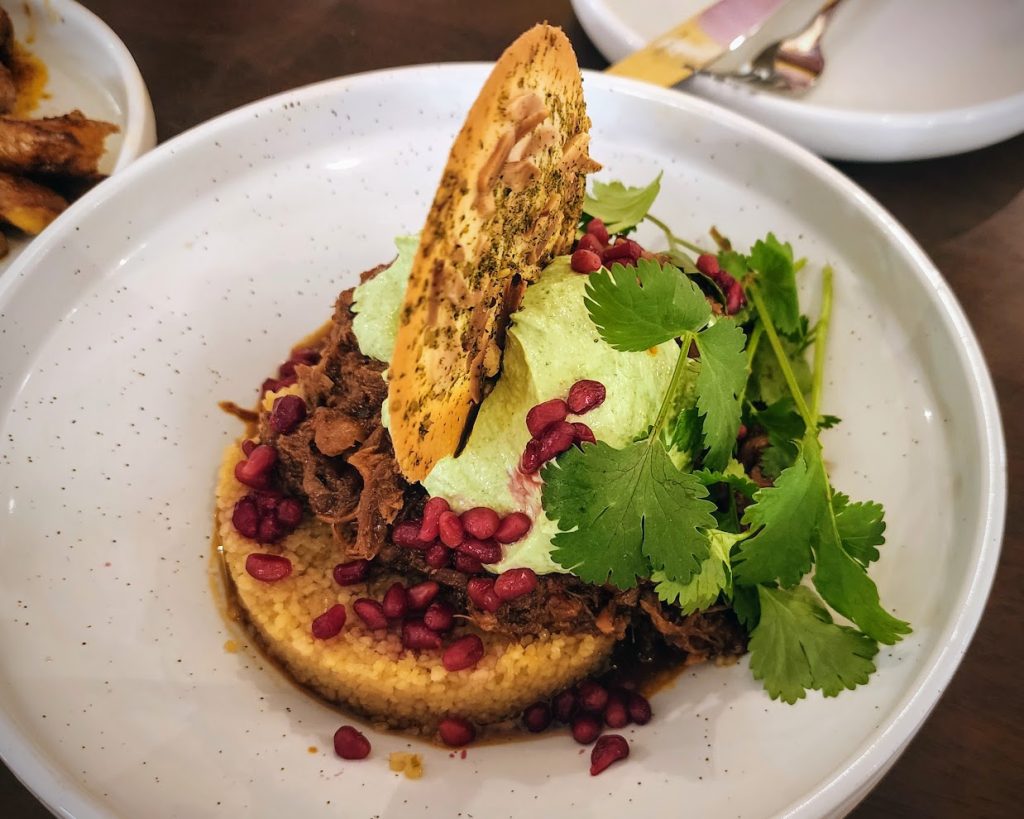 The 10hr Wild Goat Tagine is served with orange-scented couscous, minted labneh, a scattering of pomegranate arils, and a wonderful lavash crisp. The tagine is both meaty and light, with the sweetness of dried fruits and pomegranate there to help break up the fattiness of the tender-as goat. A beautifully presented and flavourful winter-warmer dish. The minted labneh could be served on its own too, as a dip with some more of that lavash crisp; I could tuck into a bowl of that on its own without a problem in the world.
The Baharat Beef is undoubtedly the heartiest dish of the evening. 300gm of slow braised beef marinated with baharat spices and cooked until it's just falling apart. Leave your knife on the table. It's definitely not required. The beef is served with a Mnazaleh eggplant and chickpea stew that was so tasty it could easily be served as a dish on its own, chargrilled baby onions, and a baharat infused jus.
Our vegetarian selection was almost as hearty and filling as the beef. My wife can never pass up a roasted cauliflower, so there was never any doubt that this would be the dish she chose. Aromatic infused roasted half-cauliflower, served on a bed of Muhammara red pepper & walnut sauce, roasted dates, and a return of the za'atar pesto from capsicum dish. The slight bitterness of the Baharat aromatics used on the cauliflower pair beautifully with the sweet smokiness of the Muhammara sauce, and the dates give a delightful pop of fruity flavour. A definite favourite.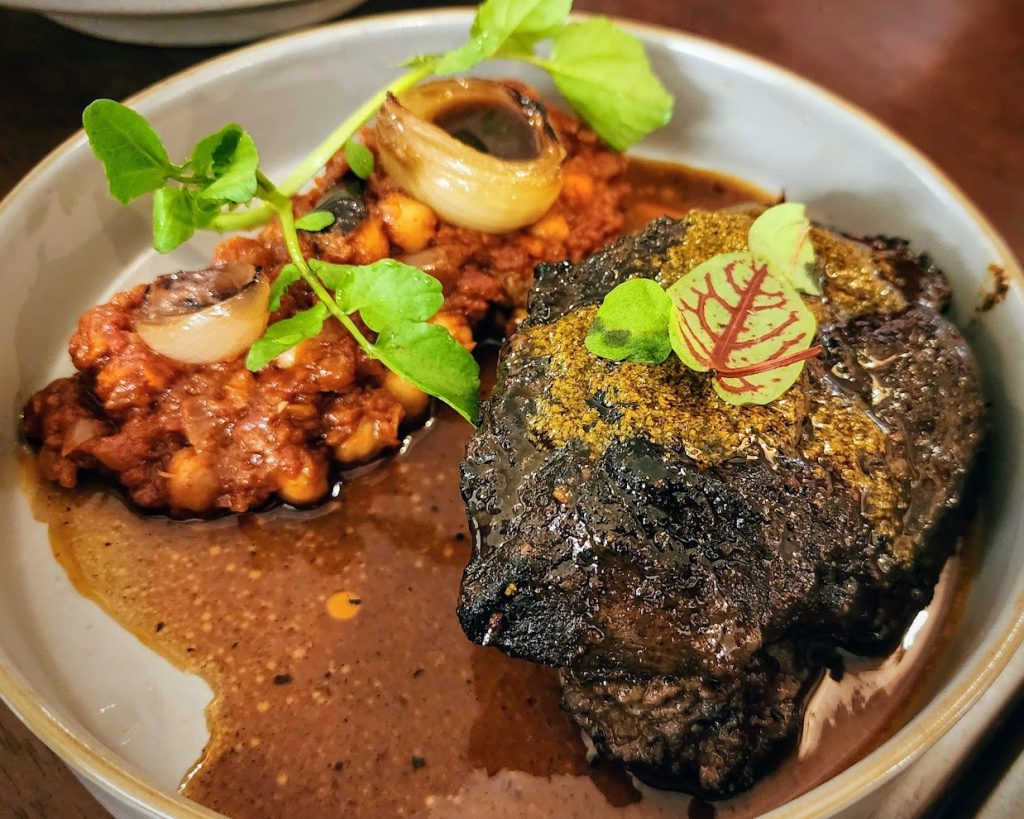 Before we move on to dessert, a quick word about service and wine. Firstly, our service on the night was exceptional. Despite Little Miss being packed with people, the staff were attentive without ever being either overbearing or neglectful. It hit that perfect spot where there always seemed to be someone available at the exact moment you needed them to be. For most of the night we were looked after by the wonderful Tori, who was able to answer all our questions about the food and was knowledgeable of the wines and how they should be paired.
The wine list itself isn't large but it is well curated, with plenty of by-the-glass options. The list skews slightly towards Australian wines but the overseas offerings are very good indeed. We've always been of the opinion that food should, first of all, be paired with wines grown and produced in the region of the cuisine. These wines are often made to pair well with local food, so it was a delight to see a number of Lebanese wines available for us to choose with our Lebanese inspired food. We started of with a wonderfully aromatic 2019 Batroun Mountains Riesling, which really woke our palates with hints of apple and pear blossom, honey and a touch of citrus.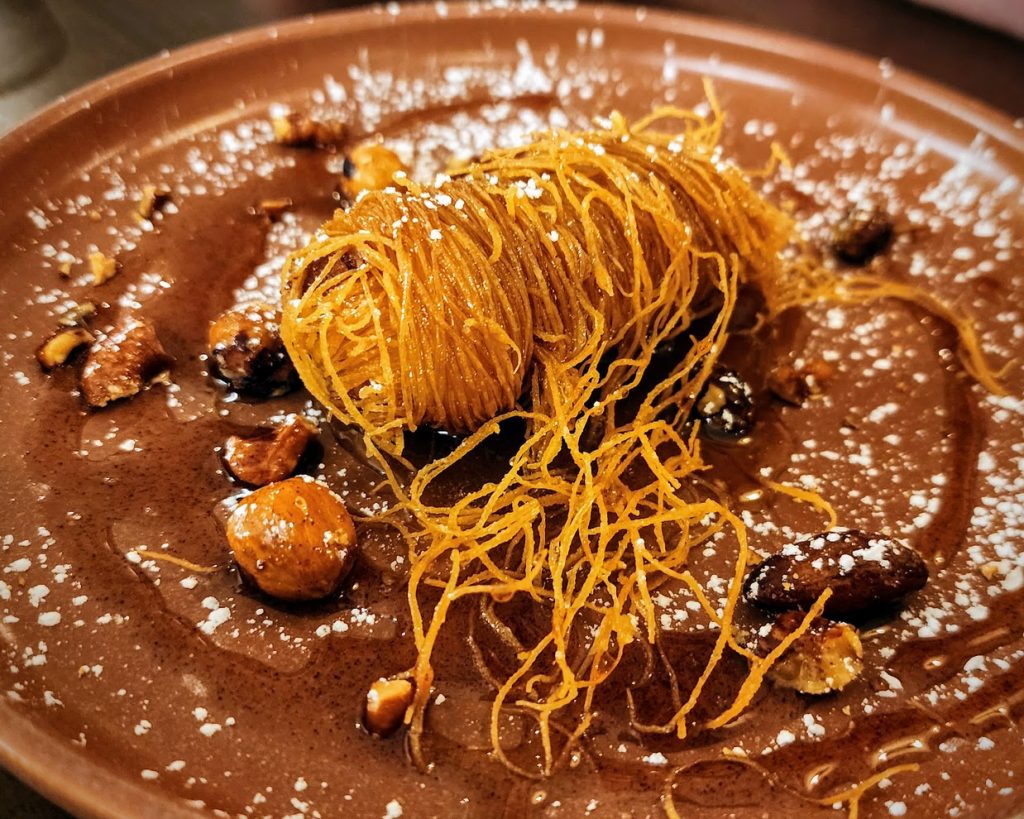 For our large plates we went with a glass of something a bit heavier; a 2018 Ksara Chateaux Rouge from Lebanon's oldest operating winery in the fertile Bekaa Valley. This full-bodied Bordeaux-style blend of Cabernet Sauvignon, Merlot, and Petit Verdot was full of ripe red and black berries and hints of red capsicum, all of which really hit the mark when matched with the goat tagine and the braised beef. It even worked well with the cauliflower!
We tried a number of dessert options. The Sumac Meringue was light and crisp, with fresh fruit and candied nuts scattering the plate and hiding a deliciously tart rhubarb compote that was offset by the sweetness of raspberry sorbet. The Kataifi Cigars were cooked golden and crunchy, filled with pistachios and semolina cream, and drizzled with a decadent honey syrup.
My dessert of the night though was definitely the Arak Baba; a light and fuffy yeast-cake soaked in arak infused syrup and served warm with vanilla whipped cream and sour cherries. This is the sort of comforting and satisfying dish that really ended the night on a perfect note for me. If I wasn't already full-to-bursting, I probably would have ordered another one of just to enjoy with a cup of thick coffee and a shot of arak.
Overall, Little Miss Mezza is a welcome shared dining experience to the Central Coast. It is tough not to compare it with its sister restaurant Motel Mezza, as there is a definite crossover in the general style of food and shared plating. But Little Miss definitely stands apart with its more refined and modern take on traditional Lebanese cuisine. This is definitely a place where Executive Chef Joshua Grant gets to be a little more liberal and experimental with the style and flavours he has developed elsewhere.
And it works! It's exciting to be able to try something new, something you've never tasted before but utilising flavour profiles you know you already love. To pull of something like that is quite a feat. Couple that with the bright and open modern décor, the excellent service, cocktails and wine, and I think Meraki Group are onto another winner for the Central Coast. Little Miss Mezza is truly elevated shared dining for a modern and adventurous audience.
Little Miss Mezza is located at Shop 3 & 4 West Gosford Shopping Village, 299 Brisbane Water Drive, West Gosford. It is open for Dinner Tuesday to Thursday from 5pm to 10pm and Friday & Saturday from 4pm to 10pm, as well as for Lunch Saturday & Sunday from 12pm to 3pm. For bookings phone: 0243 152 360 or check out the website at www.littlemissmezza.com.au