Gnocchi di Zucca con Ragù di Agnello e Funghi (Pumpkin Gnocchi, Slow-Braised Lamb & Mushroom Ragù)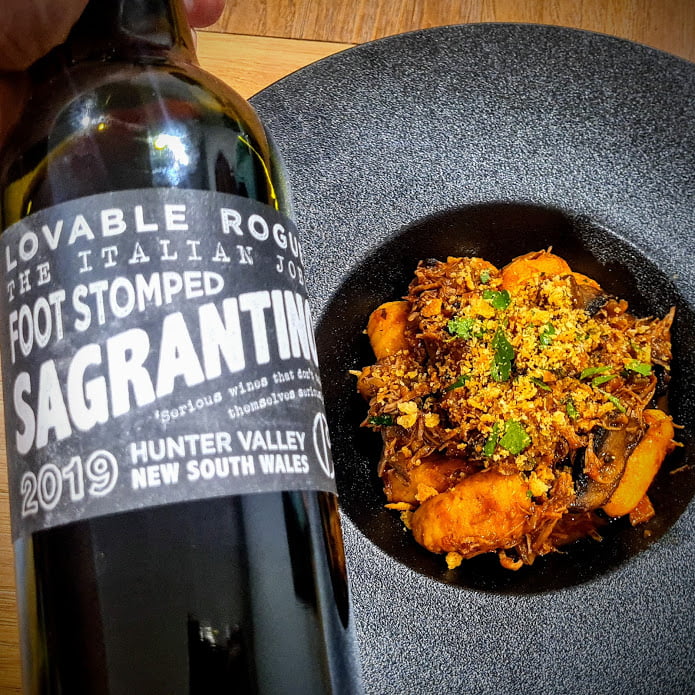 Most of the time, I'm not the one at The Grape & Grain to choose the wine. I do the cooking, and generally leave the wine pairing to my wife. She's so much better at it than I am.
Occasionally, she'll throw me a curve-ball and message me with a wine selection before I've had a chance to come up with the menu. "Here," she says. "I'd like you to cook something to go with this!"
That's always much harder for me: working backwards from Wine to Food. It's not a process I enjoy and would rather just cook the food.
But then we visited Carillion Wines and met with Winemaker Andrew Ling (you can the article and interview HERE).
Carillion have some wonderful Italian Varietal wines available at their Cellar Door, but none quite so delicious as their Lovable Rogue 2019 'Foot Stomped' Sagrantino. The moment I tried it, I just knew it needed a big, bold dish to do it justice.
It only took me a few minutes, sipping the wine while overlooking Carillion's gorgeous Tallavera Grove Vineyards, before I knew exactly what I wanted to pair it with… a rich and earthy Lamb & Mushroom Ragù matched with the starchy sweetness of Pumpkin Gnocchi. Add a drizzle of White Truffle Oil and top with the salty crunch of a Rosemary Parmesan crumb and… it was heaven!
A perfect pairing too! The balanced tannins and herbaceous savoury notes of the Sagrantino beautifully offset the gamey lamb and lifted the dish to a new level.
So, here it is. My recipe for Pumpkin Gnocchi with Slow-Braised Lamb & Mushroom Ragù, served with White Truffle Oil and Rosemary Parmesan Crumb.
Don't forget to pair it with a glass of Carillion Wines 'Foot-stomped' Sagrantino!
Check out our article on Carillion Wines, HERE.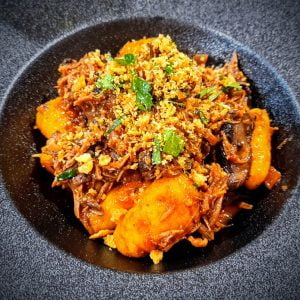 Pumpkin Gnocchi with Slow-Braised Lamb & Mushroom Ragù
Pumpkin Gnocchi with Slow-Braised Lamb & Mushroom Ragù, served with White Truffle Oil and Rosemary Parmesan Crumb
Ingredients
Lamb & Mushroom Ragù
600

gm

Boneless Lamb Shoulder

(cut into 5cm pieces)

1

medium

Brown Onion

(finely chopped)

1

medium

Carrot

(finely chopped)

2

stalks

Celery

(finely chopped)

200

gm

Swiss Brown Mushrooms

(finely chopped)

4-5

cloves

Garlic

crushed

2

tbsp

Olive Oil

1

sprig

Rosemary

4

sprigs

Thyme

2

Fresh Bay Leaves

1

cup

Red Wine

1

cup

Beef Stock

400

gm

Tin Diced Tomatoes

2

tbsp

Tomato Paste

2

tbsp

Brown Sugar

2

tbsp

Balsamic Vinegar

2-3

large

Portobello Mushrooms

(sliced)

Salt

Black Pepper

White Truffle Oil

(for serving)
Pumpkin Gnocchi
300

gm

Desiree Potatoes

(scrubbed, unpeeled)

500

gm

Butternut Pumpkin

(seeded and peeled, cut into 5cm pieces)

3/4

cup

00 Plain Flour

1

tsp

Salt

1

pinch

Black Pepper

1

pinch

Nutmeg

1

Egg

(whisked)

Plain Flour

(extra, to dust)
Rosemary Parmesan Crumb
1

Small Sourdough Loaf

(day or 2 old is best, cut into 2-3cm cubes)

1

tbsp

Olive Oil

(extra virgin)

2

tbsp

Rosemary

(finely chopped)

1/4

cup

Continental Parsley

(finely chopped)
Instructions
Lamb & Mushroom Ragù
Heat olive oil in a large saucepan over medium-high heat. Add the lamb in batches and cook, turning occasionally, for 5-7 mins or until well browned. Transfer to a heatproof bowl.

Add finely chopped Swiss Brown Mushrooms to the pan. Cook for 5 mins or until tender. Transfer to a bowl.

Add onion, carrot, celery and garlic to pan. Cook on low heat, stirring, for 5-10 mins or until onion softens, and just begins turning brown.

Add the wine and scrape pan to deglaze. Bring wine to the boil and reduce by half.

Return lamb and mushroom to pan.

Add Tomato Paste, Diced Tomatoes, Beef Stock, Bay Leaves, Thyme, Rosemary Sprigs and Brown Sugar.

Stir and bring to the boil. Reduce heat to low.

Cover pan and cook on the lowest simmer for 2-3 hours or until lamb is tender and falling apart.

Use tongs to transfer lamb to a heatproof bowl. Use 2 forks to coarsely shred.

Meanwhile, heat a heavy based frying pan, add butter. When it begins to foam, add sliced Portobello Mushrooms and fry on medium heat for 4-5 mins.

Return Lamb to tomato mixture and add Portobello Mushrooms.

Add Balsamic Vinegar and stir through.

Season with Salt and Pepper to taste.
Pumpkin Gnocchi
Preheat oven to 180ºC. Place pumpkin on a baking tray lined with non-stick baking paper and bake for 40 minutes or until tender but not golden.

Place potatoes in a saucepan of cold water and bring to boil over high heat. Reduce heat to a simmer, cover and cook for approximately 30 minutes, or until soft when pierced with a skewer.

Let the potatoes cool for about 30 minutes. Remove skins by scraping them with a butter knife. Mash until just smooth, then press one-quarter of the potato mash through a ricer or sieve into a bowl. Repeat in 3 more batches.

Mash the pumpkin, using the ricer to get a smooth texture, and stir into the potato mash.

Add salt, nutmeg and pepper and mix.

Add flour and whisked egg. Mix to form a firm, slightly sticky dough. If it's too sticky, add a little more flour, but only a tablespoon at a time.

Dust a tray, lined with a clean, dry tea towel, with flour. Cut dough into 4 even portions. Roll each portion on a lightly floured surface to a 2cm-thick log.

Use a lightly floured knife to cut logs into 2cm pieces.

Gently roll the Gnocchi pieces, over the back of a lightly floured fork. The ridges will help the sauce cling to the gnocchi and give them a traditional finish

Bring a saucepan of water to the boil. Add one-quarter of the gnocchi. When they rise to the surface – after about 2-3 minutes – they're ready.

Use a slotted spoon to transfer to a baking tray, making sure there's a little cooking water still on the tray. This stops them sticking together.
Rosemary Parmesan Crumb
Spread sourdough cubes on a baking tray and bake for 10 minutes (until they are dry and just turning golden on the edges)

If not sufficiently dry, continue baking and check every 5 minutes, but avoid burning.

Remove from oven, allow to cool slightly, then transfer sourdough cubes to a food processor.

Add finely chopped Rosemary.

Process bread cubes into breadcrumbs.

Place breadcrumbs in a bowl and stir through Parmesan and Olive Oil.

Spread mix on a baking try and place back in oven for 10 minutes.

Remove from oven, let cool.

Place in bowl and stir through fresh parsley just prior to serving.
Serving & Plating
Stir the cooked Gnocchi gently through the Lamb & Mushroom Ragù. Be careful not to break up the Gnocchi.

Add about 1 1/2 cups of Gnocchi Ragù mixture to each bowl.

Drizzle a small amount of White Truffle Oil over the Gnocchi Ragù – don't overdo it, a small amount goes a long way!

Sprinkle Rosemary Parmesan Crumb over the dish and serve with a glass of robust red wine.
Nutrition
Calories:
869
kcal
Carbohydrates:
129
g
Protein:
44
g
Fat:
20
g
Saturated Fat:
4
g
Polyunsaturated Fat:
3
g
Monounsaturated Fat:
11
g
Trans Fat:
0.01
g
Cholesterol:
103
mg
Sodium:
1240
mg
Potassium:
2206
mg
Fiber:
11
g
Sugar:
24
g
Vitamin A:
16626
IU
Vitamin C:
64
mg
Calcium:
259
mg
Iron:
12
mg