YELLOWTAIL: Quin Wines Wine Dinner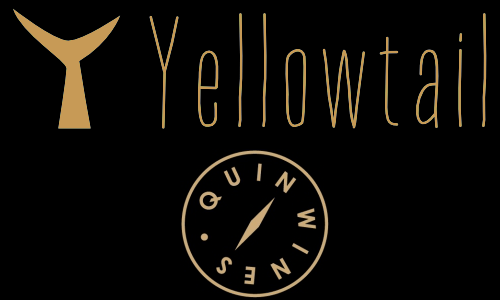 Amongst all the hustle and bustle of Terrigal's waterfront district, it would be easy to miss Yellowtail Restaurant's nondescript entrance. I beg you not to, because it's here that owner Scott Price and Head Chef Alastair Burke are serving up some of the Central Coast's finest dining.
Opened in Spring of 2016, Yellowtail's small and intimate 35-seat dining experience, quickly became a must-visit destination for lovers of Modern Australian cuisine. The menu always tends towards an experimental blend of Asian, Middle Eastern and Mediterranean flavours featuring fresh local produce that lends itself perfectly to wine pairing. Which is partly what makes this wine dinner collaboration with Barossa Valley winemaker Andrew Quin all the more intriguing.
NOTE: This is a review of the Yellowtail + Quin Wines dinner held Thursday 22nd June 2023, and does not necessarily reflect their standard à la carte menu.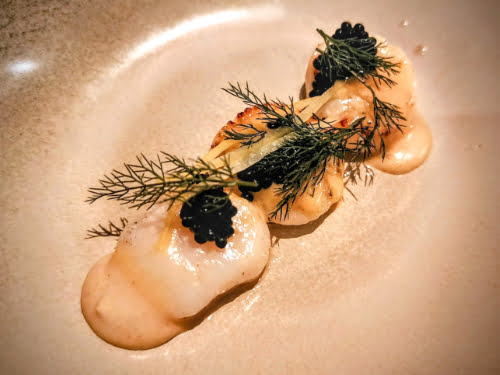 For the past 15 years, Andrew Quin has been producing wines as Head Winemaker for renowned boutique Barossa Valley winery Hentley Farm. In 2018 he established his own label while continuing his role at Hentley Farm, allowing him to work with a wider variety of grapes and techniques. Using a selection of Andrew's wines, Yellowtail Head Chef Alastair Burke has created a six course degustation menu, different to their normal menu, for tonight's showcase.
First up are grilled scallops served with a burnt butter vinaigrette, preserved lemon and topped with caviar. The scallops are perfectly grilled and lightly smoky. The burnt butter vinaigrette lends it all a mouth-smacking sourness and the slivers of preserved lemon make the whole dish pop with flavour. The paired 2022 Eden Valley Riesling is crisp and fresh, with just the right amount of minerality and citrus to cut through the smokiness of the scallops and the salty caviar. It will be really interesting to see where this bright young Riesling is headed as it ages over the next few years.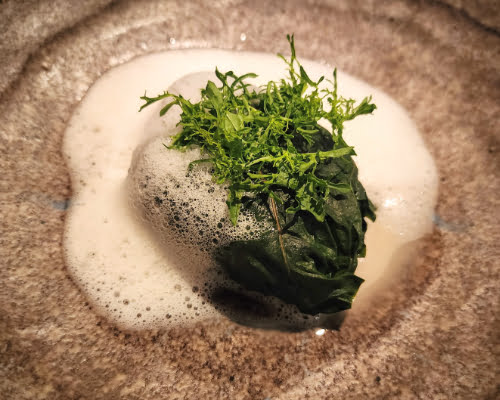 Our second dish is Broadbill Swordfish, wrapped in chard with a tarragon infused aerated buttermilk dressing. The fish is deliciously moist and flaky, and the tender chard and lends a nice earthy-sweet note. The aerated buttermilk is very light and holds its foam well, but the infused tarragon was not as evident as it could have been to really elevate the dish. The mizuna on top was a nice slightly-bitter and peppery touch.
The swordfish was served with a 2022 Mataro Rosé. The Mataro grape, also known by its French name Mourvèdre, is more commonly seen in Australia as part of the GSM (Grenache, Syrah, Mourvèdre) blend. It's great to see the fruit here as a rosé, something much more common in the Provence region of France. This Quin Wines rosé displays hints of strawberry sorbet and makrut lime leaves on the nose. The palate opens up with the floral notes of lillypilly, fresh apples and citrus. It's a wonderful rosé that could easily have withstood a more robust and spicy dish.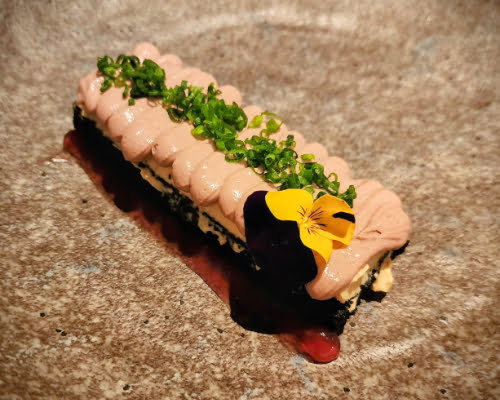 For the third dish we move into something slightly more experimental from the kitchen. Squid ink brioche, topped with sea urchin cream and duck liver parfait, all sitting on a bed of cranberry gel. The brioche is light and crisp with an almost rye-like nutty flavour. The duck liver parfait is especially rich, and maybe spread a little too thickly as the expected umami kick from the sea urchin cream is nowhere to be found. The cranberry gel certainly livens the dish up though, giving it a welcome fruity sweetness.
The pairing of the Quin Wines 2021 Pyrenees Nebbiolo was, to my mind, definitely the strangest choice for this dish when I first read the menu. But, it definitely works, especially beside the brioche and the cranberry gel. Turns out, it was also our wine of the night. This is one of those expressions of Nebbiolo that proves it is a varietal that can surpass even the best Pinot Noirs. Featuring up front aromas of rose and berries with a hint of spice to come, and a palate of light grippy tannins over plush raspberry, cherry and sage that really show off the laser tight focus and underlying complexity of this wine. A definite winner, and one we were very happy to buy a few bottles of at the end of the night.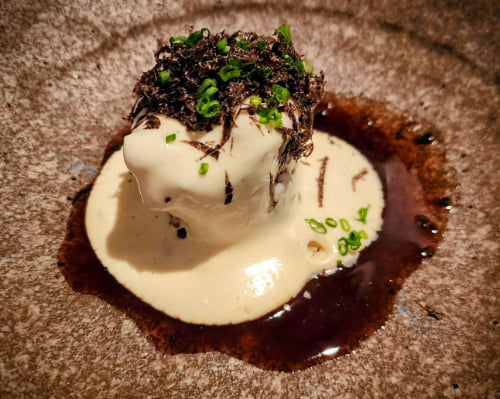 Next up is a Duck Leg Ballotine with persimmon and polenta foam, paired with a 2021 Barossa Valley Grenache. The confit duck leg is succulent and pull-apart tender. The creamy polenta foam cuts through the richness of the jus, and the persimmon adds a pop of juicy freshness. Honestly, I wish I could write more about this dish, but it just disappeared off my plate too quickly for my taste buds to really take stock. My bad, but it was a very well balanced dish. I wish I'd had a second helping actually!
The paired 2021 Barossa Valley Grenache has an amazing dark indigo colour and a nose of black pepper, red berries and herbs. You'd almost guess it is a Hunter Valley Shiraz just from the smell. On the palate though, it's a little light. The mouthfeel is velvety smooth, but the hoped for berry explosion never comes. There are subtle stewed plums and sweet strawberries alongside a little cherry, but nothing truly exciting. I think that maybe this vintage is still a little too young, too tightly wound to show its true potential. Give it a couple more years and I think those berries will find their way out, making this a wine with body enough to match the herbaceous nose.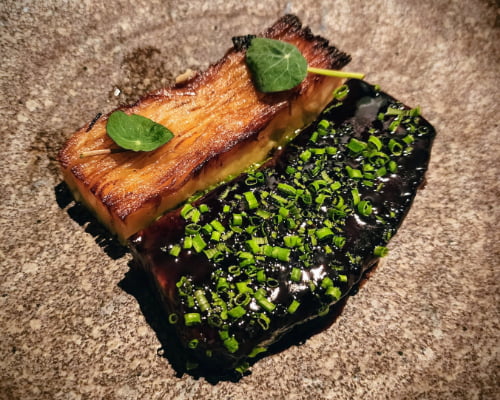 Our final course before dessert is simple in presentation but very well executed. Braised beef short rib with potato pave, truffle and black vinegar jus. I know just how time-consumingly difficult a dish like this can be. Potato pave as soft inside and crisp on the edges as this can't be produced in just a couple of hours of prep; it often needs up to 24 hours to rest and press and finish. And beef short rib also needs a long braising time to reach the level of tenderness that arrived at our table. With all this time and care, it was the reduced black vinegar just that took the dish to new heights. Just delicious.
My only thought, fleetingly while eating it, was: where is the truffle? What should have been a stand-out flavour unfortunately just disappeared amongst rich background of this sweet and beefy dish.
The other interesting part of this course was the side-by-side wine paring. A 2020 Barossa Valley Shiraz vs a 2020 Eden Valley Shiraz. Now, the Barossa is known for its bold Shiraz and Eden Valley for its excellent Riesling. But, I'm here to tell you to give Eden Valley Shiraz a try. Especially this one from Quin Wines.
Although both wines were excellent, and the Eden Valley region only 20 minutes away from the Barossa, their expressions couldn't have been more different. The Barossa Valley Shiraz was all plums and cherry with a hint of aniseed, and a mouthfeel so smooth you could just sit by a fire drinking it all night.
Alternatively, the Eden Valley Shiraz paired much better with the food on the night. It was less plums and more blueberry, more floral like violets than herbaceous, and had a mouthfeel that was more luxurious with complex fine grained slatey tannins. Overall, it just elevated every part of the dish. An excellent food wine and I suggest everyone try and get their hands on a bottle.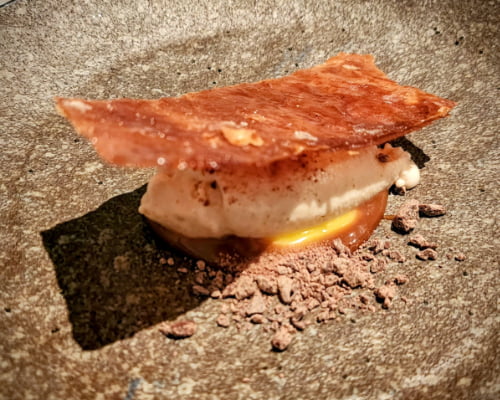 Our dessert had intrigued me from the moment I first read it on the menu. Sunchoke gelato, smoked caramel, orange, cacao nibs and a filo crisp. Sunchoke gelato!? What the? I've used sunchokes (otherwise known as Jerusalem Artichokes) before. Earthy and slightly nutty, I've always seen them as a savoury thing – baked, fried, mashed, pureed – but here they were in a dessert. Did it work? Oh yes, it most certainly did. The smokiness of the caramel sauce melded perfectly with the mild-nutty flavour of the gelato, and the hit of orange was a welcome surprise burst for the palate. The filo crisp on top was a great textural touch.
The pairing for the dessert was the only non-Quin Wines offering, and it too was a strange one that I ended up thoroughly enjoying. When we think of Vermouth, its mainly about adding it to cocktails such as Negronis and Martinis. Drinking it on its own isn't really a thing in Australia. At least not, but it certainly should be. The glass of Saison Aperitifs House Vermouth that accompanied the dessert was something totally different. Less herbaceous and spice driven than most European Vermouths, this is more light and fruit forward and its use of Moscato and Shiraz wines make it a very Australian drop.
All-in-all, this was a great wine dinner from the team at Yellowtail, and we were introduced to an excellent winemaker we might never have known much about otherwise. Wine dinners are always tough for chefs, who normally just have to come up with exceptional dishes and let the sommelier do all the worrying about what wine to match it with. It's much harder when it's the other way around – pairing food with specific wines – and one-off wine dinners often mean less chance to test and experiment with getting the flavours just perfect.
With all this difficulty in mind, Chef Alastair Burke served up some magnificent dishes that really let the wines shine, without ever over-powering them or competing for centre stage. In many ways, that's the very best way for a dinner like this to be.
Yellowtail is located at Shop 3/1 Campbell Cres, Terrigal NSW 2260. It is open for Dinner Monday to Saturday from 6pm to 10pm, and for Lunch Friday & Saturday from 12 noon until 2pm. For bookings phone: (02) 4384 6656 or check out the website at yellowtailrestaurant.com.au
For more on Quin Wines visit quinwines.com.au