Loaded Savoury Mince with Pasta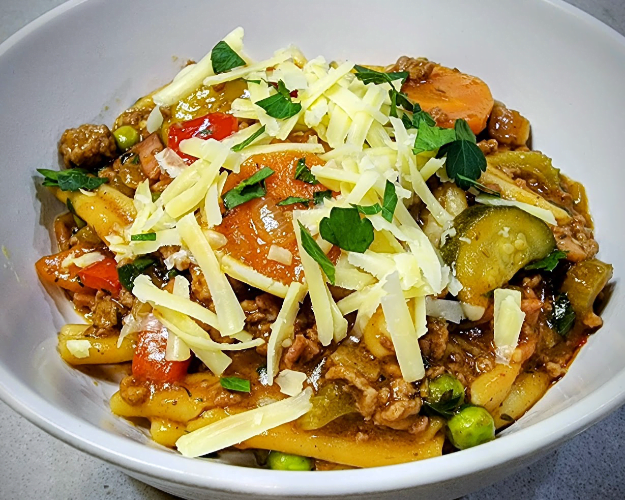 Growing up as an Aussie kid in the 70s and 80s the secret to cheap, quick and easy meals for our hard working parents was, and still is, the humble mince. Spaghetti Bolognese, meatloaf, rissoles, tacos, and the pinnacle of meal versatility…the one-pot savoury mince!
As homely and comforting as this classic dish is on its own, there are so many ways you can use and modify the base recipe. My version below is packed with vegetables and cooked with pasta. You can use most any short pasta – macaroni, shells, penne, rigatoni, fusilli, casarecce, orecchiette – or you can leave out the pasta and serve over rice or mashed potato. For other non-pasta options, you can put the savoury mince in a casserole dish and spread mashed potato and cheese on top to make a cottage pie. Stuff a baked jacket potato with it. You could even put in inside puff pastry to make pasties.
It's healthy and budget friendly too…which is probably why so many of us Aussie kids grew up with it. It was an easy way for our family to make a meal stretch (leftovers on toast for breakfast? Inside a molten-hot jaffle for lunch?) and sneak some vegetables in there too.
Speaking of vegetables, you can add more if you like. Corn or mushrooms are good options. Or leave out the pasta and add cubes of potato. Alternatively, take out the vegetables you don't like.
It freezes well too, so you can make up a big batch and store some away for a cold rainy day when you really don't feel like cooking.
Seriously, the possibilities of this recipe are near endless.
Now, it might seem like I've got a lot of ingredients in the list below, but so many of them are optional or can be swapped out at your preference. I'll mark those items as such in the ingredient list.
So, on with the recipe. If you have any questions or tips as to how you make this dish, please let me know in the comments.
The Ingredients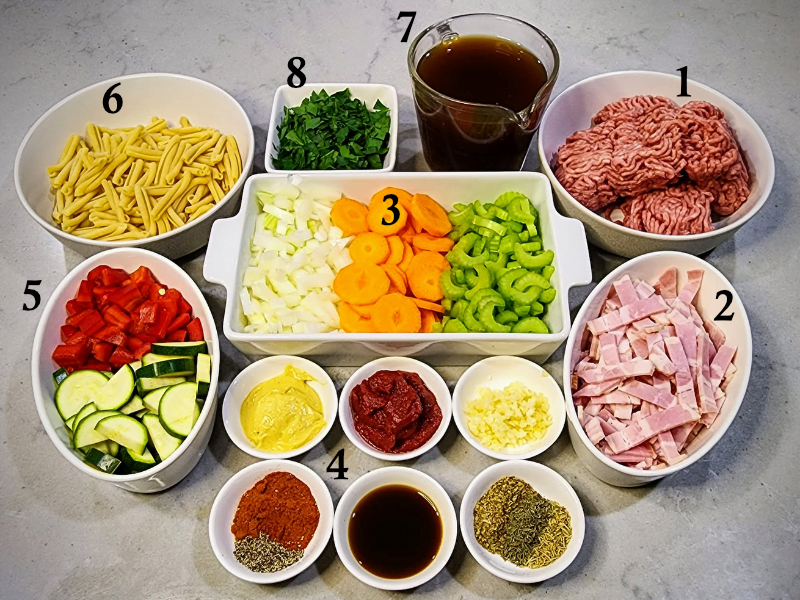 1. Mince – I'm using beef mince, but you could easily substitute it for lamb mince (shepherd's pie anyone?), kangaroo mince, pork mince, or a 50/50 beef and pork mince blend. I'm guessing you could even use one of those plant-based minces, but I've never tried.
2. Bacon (optional) – yes, bacon is optional. But really, unless it's a because of a dietary or religious requirement, why would you? Bacon adds heaps of flavour to the dish. Bacon makes everything better.
3. Mirepoix – a traditional French base of finely diced onion, celery and carrot. Here I don't finely dice the carrots as you usually would, but leave them as discs about 4mm thick so they hold together in the final dish. These ingredients add sweetness and flavour and aren't really optional. I'd say all three are essential to making your savoury mince exceptionally tasty.
4. Herbs, spices and flavours – for herbs I use a mix of dried thyme, oregano and rosemary, but you could just as easily use an Italian or Tuscan Herb Mix straight off the supermarket shelf. The garlic is finely minced and I would say (just as with the mirepoix above) that it isn't optional; but do feel free to adjust the amount to your own taste.
Tomato paste is there to give the dish a lot of its unique savoury appeal. I find its a much better option than using tinned tomatoes as the flavour is more concentrated.
The other flavours I use are black pepper, paprika, dijon mustard and Worcestershire sauce. You can also add some chilli flakes or cayenne powder if you like a bit of heat. A tablespoon of curry powder works well too in place of the paprika and dijon mustard.
5. Vegetables (optional) – in my recipe I opt for zucchini/courgettes and red capsicum/bell pepper as my vegetables. But, as mentioned above, feel free to substitute these out for anything you desire. Corn, mushrooms, cauliflower, broccoli. Whatever is fresh and available! Just hold off adding them until the last 10 minutes of cooking, or they'll go too mushy.
6. Pasta (optional) – here I'm using casarecce pasta, because its what I already had in the pantry. But, I normally use macaroni or shell pasta. Any short pasta will work. If you want to leave out the pasta and add diced potatoes, that's fine too. Just use 1 cup less stock if you're not adding the pasta.
7. Stock – Here I'm using Beef Stock for that full savoury umami, but the recipe works just as well with Chicken or Vegetable stock. Remember to use less stock if you're not adding pasta
8. Parsley (optional) – I add parsley, both into the dish right before served and as a garnish, to add a wonderful pop of freshness. You can leave it out altogether, or use something like chives as a garnish instead.
Notes
NOT SHOWN: There are two things now shown in the photo (but included in the recipe below) that I find are essential. The first is frozen peas! Seriously, I might have overlooked them when I was doing the initial prep for this dish, but they always end up in the pot before I'm done.
The second thing is grated cheddar cheese. Not that pre-shredded stuff you buy in a bag, yuck! Buy a block of cheese and grate yourself a bowl to sprinkle on top at before you serve. Soooo good.
The Recipe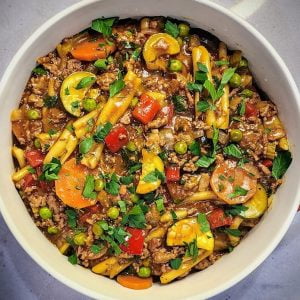 Loaded Savoury Mince
Classic savoury beef mince and vegetables with pasta in a rich gravy.
Ingredients
1

tbsp

Olive Oil

500

gm

Beef Mince

4

slices

Streaky Bacon

(cut into strips)

1

medium

Brown Onion

(finely diced)

1

medium

Carrot

(cut into rounds)

2

stalks

Celery

(sliced)

2

tbsp

Tomato Paste

0.5

tbsp

Dried Thyme

0.5

tbsp

Dried Oregano

0.5

tbsp

Dried Rosemary

1

tbsp

Paprika

0.5

tbsp

Black Pepper

3

cups

Beef Stock

(see notes)

1

tbsp

Dijon Mustard

2

tbsp

Worcestershire Sauce

2

cups

Dried Pasta

(see notes)

1

medium

Red Capsicum

(diced)

1

medium

Zucchini

(sliced)

1

bunch

Parsley

(finely chopped)

2

cups

Cheddar Cheese

(grated)
Instructions
In a large pot or dutch oven, sauté the bacon in 1tbsp olive oil on medium heat until just starting to brown. (about 5 mins)

1 tbsp Olive Oil,

4 slices Streaky Bacon

Add mince, stir and cook through until brown, (about 5 mins)

Add Onion, Celery and Carrot, stir through until onion is translucent (about 5 mins)

1 medium Brown Onion,

1 medium Carrot,

2 stalks Celery

Add tomato paste and stir through. Cook for a minute or two.

Add herbs and spices - Thyme, Oregano, Rosemary, Paprika, Black Pepper

0.5 tbsp Dried Thyme,

0.5 tbsp Dried Oregano,

0.5 tbsp Dried Rosemary,

1 tbsp Paprika,

0.5 tbsp Black Pepper

Add Beef Stock, increase heat to high, stir and bring to the boil.

Once boiling, add Dijon Mustard and Worcestershire Sauce and stir through.

1 tbsp Dijon Mustard,

2 tbsp Worcestershire Sauce

Add dried pasta, bring back to boil and then lower heat. Cover and simmer for 15 minutes.

Add Red Capsicum and Zucchini, stir through.

1 medium Red Capsicum,

1 medium Zucchini

Simmer uncovered for a further 5-10 minutes (or until pasta is cooked through and al dente)

Add half the parsley and stir through. Serve in bowls topped with grated cheddar and more parsley for garnishm

1 bunch Parsley,

2 cups Cheddar Cheese
Nutrition
Serving:
1
g
Calories:
675
kcal
Carbohydrates:
38
g
Protein:
35
g
Fat:
43
g
Saturated Fat:
17
g
Polyunsaturated Fat:
3
g
Monounsaturated Fat:
16
g
Trans Fat:
1
g
Cholesterol:
113
mg
Sodium:
1454
mg
Potassium:
1015
mg
Fiber:
4
g
Sugar:
6
g
Vitamin A:
4319
IU
Vitamin C:
48
mg
Calcium:
360
mg
Iron:
5
mg