THE LUCKY BEE: A Flavour Bomb of Southeast Asian Kitsch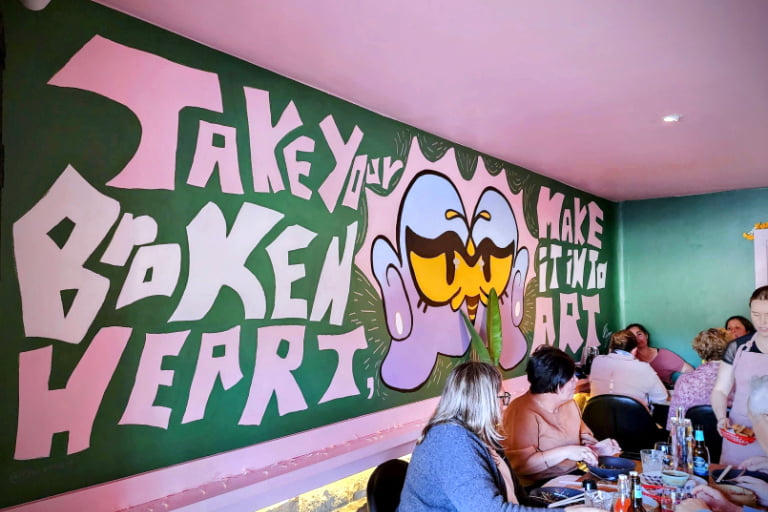 As soon as you walk through the door, you just know the latest iteration of The Lucky Bee from owners Rupert Noffs and Chef Matty Bennett is going to be something different. Something special.
The colour scheme is one I haven't seen since I was a kid, and immediately it takes me places. My great grandparent's beach-house at Bateau Bay was decked out in the same tiki-bar green and pale pink. There's ample kitschy decoration to round out the ambience – disco balls and ornamental exotica – and a 50s-60s soundtrack that makes me yearn for Annette Funicello and Frankie Avalon to come bounding through the door.
It's a comforting retro combination for me, but also exciting because it signals something playful and adventurous that wants to push against our expectations.
And when the cocktails and food begin to arrive, I discover that is exactly what The Lucky Bee is all about. Playful takes on Southeast Asian dishes, so full of flavour you can't help but smile as you share them with friends.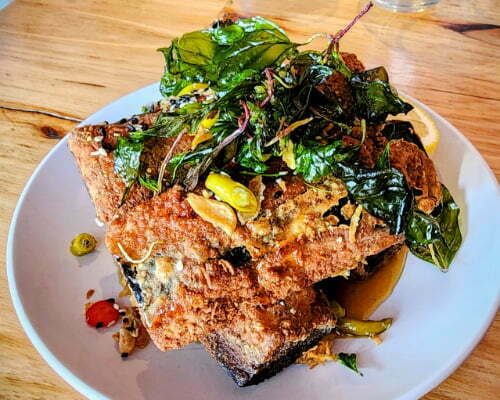 The Lucky Bee's menu is designed to be shared, and changes seasonally ensuring always fresh ingredients. The flavours are heavily Thai influenced, but also include nods to Vietnamese, Cantonese, Sichuan and Indian cuisines. Even the cocktails have an Asian inspired twist with limes, Thai chillies, lychees and tamarind pulp pushing old favourites in new directions. The wine list is minimal, but with a well chosen selection more than adequate to suit the styles of food being served.
We start our lunch with the Fried Eggplant with Three Flavour Caramel Sauce, which arrives at our table like a crispy spiced jenga tower topped with fried Thai basil. The caramel sauce isn't too sweet and perfectly spiced, complimenting the slight bitterness of the eggplant, which is tempura crisp on the outside and creamy on the inside. In some ways it reminds me of an Asian spin on the Spanish tapas 'Berenjenas con Miel', but with infinitely more flavour. Once the eggplant is gone, it's hard to resist wiping the last of the caramel sauce from plate with your fingers. (Editor Note: "He couldn't resist")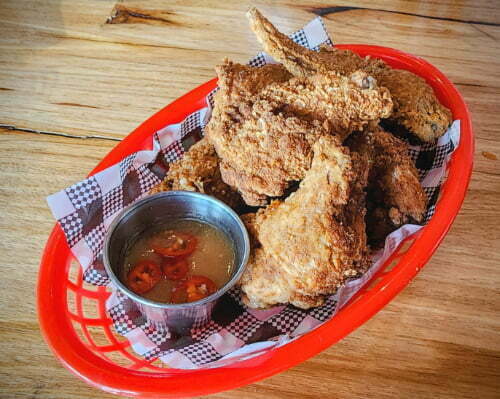 Our serve of Turmeric Chicken Skewers with Satay Sauce from the chargrill are more than generous, with almost double the amount of chicken per skewer than I've received at most restaurants. It's tender too, with just the right amount of char on the outside. The satay sauce is sweet and salty, just the way it should be, but we maybe could have done with a little more of it on the plate.
The Fried Chicken Wings with Szechuan Salt & Pepper and Nam Prik are possibly the crispest and juiciest wings I've ever eaten. They're very mildly spiced, but that's what the Nam Prik is there for. Dip your wings in there for a hit of chilli and a bright pop of lime. Give me a cold beer and another couple of plates of these and I'd be in heaven.
Chicken & Cashew San Choy Bow was our next dish, served topped with red chilli and fried shallots, and fresh cos lettuce on the side. It was light and refreshing, with the crispness of the lettuce serving as an excellent palate cleanser. Again, it was a generously portioned dish. At first I wasn't sure we'd get through it all, but it is very moreish and we made short work of it. The lettuce to chicken ratio was spot on too.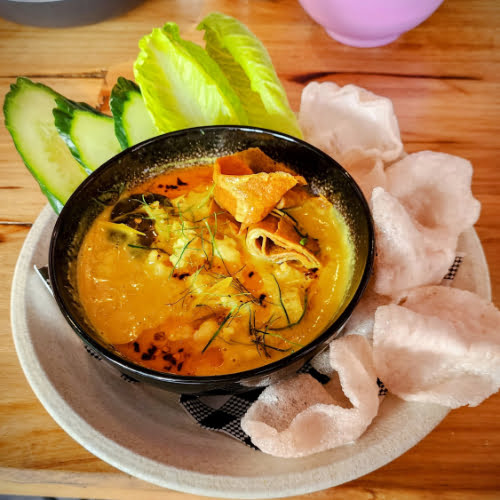 Our next dish was probably the surprise hit of the day: Thai 'Lon' of Minced Prawns, served with lettuce, cucumber and prawn crackers. A deliciously creamy curry of minced prawns swimming in a sea of turmeric, coconut milk and makrut lime leaves. Not at all spicy in terms of heat, but displaying a real depth of flavour that hints at many more ingredients than those mentioned on the menu. It was very distinctive, and the closest way I can think to describe it is the fresh lime-leaf tang of a Panang Curry paired with the earthy turmeric of a Thai Yellow Curry. But, in reality it is neither of these things and better than both.
Last, but certainly not least, we order the Thai Red Curry of Slow Braised Beef Cheek. Much like the Fried Eggplant with Three Flavour Caramel, this is a dish that has almost become legendary as a 'must try' amongst those who speak loving of The Lucky Bee. Similar to the Thai 'Lon' dish above, this deep-flavoured coconut curry is neither your typical Thai Red Curry nor quite a Massaman Curry, but existing in a sweet spot between the two. The slow-braised beef cheek is served whole, floating in the sauce and topped with crispy fried Thai Basil and peanuts. No knife required for the beef cheek either. This meat is so tender you can carve it with a chopstick. Just shred it into the sauce, scoop it up and enjoy the richness of this superbly complex curry. It's a most satisfying end to the meal.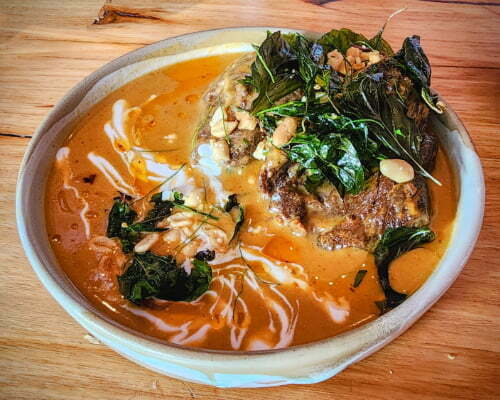 We finished up with some lemon sorbet and coconut & makrut lime ice cream purely as a final refreshing palate cleanser. It's also just enough, because by the end we're all sitting there in a food stupor. Not needing more, and not really wanting to move. Just contemplating how good everything has been.
Ultimately, the reputation The Lucky Bee has already earned is well deserved. Owners Rupert Noffs and Chef Matty Bennett, along with their Head Chef Drew Powers, have crafted an eclectic menu of Southeast East Asian inspired food that is at once familiar and surprisingly new. The atmosphere is nostalgic, kitschy and a little bit cheeky, and the staff are wonderfully attentive and knowledgeable. Jorden, who looked after us so well, was able to recommend wines and how many dishes we might need with ease and confidence. Not once did we feel either crowded or neglected. Everything was as close to perfect as you could hope.
And we didn't even get to try any of the Dim Sum!
Will definitely have to go back soon.
The Lucky Bee is located at 189 Ocean View Rd, Ettalong Beach NSW 2257. It is open for Dinner Thursday to Sunday from 5:30pm to 10pm, and for Lunch Friday to Sunday from 12 noon. For bookings check out the website at theluckybee.com.au